Welcome to Glass Bottom Boat

All trips sail past the cliff from the movie "The Guns of Navarone", the Lion's Head, St Pauls Bay and Lindos Acropolis. Glass Bottom Boat operates every day and if you wish to organise a private party or wedding please enquire on our contact page.
* Half price for children under 10 *
Please contact us using the enquiry form or by calling 30 69084 54067 to confirm availability of places before turning up for the trip

Trip to lindos
Nearly an 1 hour trip after which you will stop off at Lindos Harbour. This trip does not include a swim stop and a return from Lindos Harbour to Pefkos.

* For a return trip back from Lindos, ​
please ask the crew
book this trip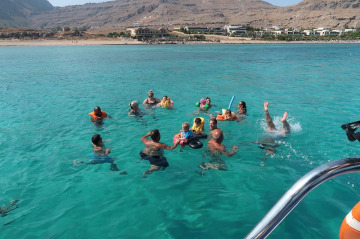 90 MINUTE SEA CRUISE
A 90 minute sea cruise passing the cliff from the movie "The Guns of Navarone". This trip include a swim stop.
book this trip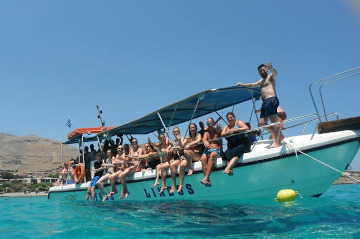 3 BAYS CRUISE
2 hours of sailing, sightseeing and swimming, includes a couple of drinks (beer, water and soft drinks).
book this trip
Das beste Boot Reise, die ich je gemacht habe! Ein bisschen anstrengend zu finden, und ich empfehle Sie buchen oder früh dort zu sein, denn es ist sehr beliebt. Wir... read more gingen auf die 11 Uhr 1 . 5 Stunden Rundfahrt, und es ist einfach fantastisch....Der Kapitän ist lustig, ich werde nicht verderben es für andere, die haben noch nicht aber einfach nur super! Man bekommt zu springen auf dem Weg zurück nach gezeigt einige der Sehenswürdigkeiten - ein Muss in Pefkos! Mehr
1234KT


19. July 2017
Vielen Dank für das tolle Erlebnis auf Rhodes, beim nächsten Besuch auf der Insel werden wir die Tour definitiv wiederholen, der Captain sowie Personal waren sehr zuvorkommend
297manolog


4. August 2021
Gemeinsam mit meiner Freundin wollten wir an dieser Rundfahrt aufgrund des ausgefallenen Bootes teilnehmen. Es war super organisiert, eine tolle freundliche und aufmerksame Crew. Es war eine ruhige angenehme Bootstour... read more mit atemberaubender Landschaft und super spots. Auf dem Boot hatten wir eine tolle Stimmung und es war rundum für uns gesorgt. Auch die Schwimmpause wurde an einem romantischen türkisblauen und weißen Sandtrand gelegt. Vom Boot aus kann man die Insel von einem ganz anderen Blickwinkel betrachten, deswegen ist diese Tour unserer Meinung nach einer der wichtigsten Aktivitäten auf der Insel. Im allgemeinen lässt es mich nur staunen. Einfach Hammer. Danke!
Apo A


1. January 1970