Welcome to Glass Bottom Boat

All trips sail past the cliff from the movie "The Guns of Navarone", the Lion's Head, St Pauls Bay and Lindos Acropolis. Glass Bottom Boat operates every day and if you wish to organise a private party or wedding please enquire on our contact page.
* Half price for children under 10 *
Please contact us using the enquiry form or by calling 30 69084 54067 to confirm availability of places before turning up for the trip

Trip to lindos
Nearly an 1 hour trip after which you will stop off at Lindos Harbour. This trip does not include a swim stop and a return from Lindos Harbour to Pefkos.

* For a return trip back from Lindos, ​
please ask the crew
book this trip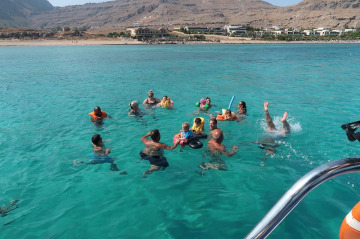 90 MINUTE SEA CRUISE
A 90 minute sea cruise passing the cliff from the movie "The Guns of Navarone". This trip include a swim stop.
book this trip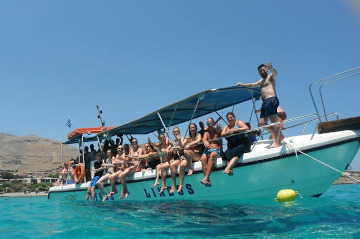 3 BAYS CRUISE
2 hours of sailing, sightseeing and swimming, includes a couple of drinks (beer, water and soft drinks).
book this trip